Scott Boras Must Be High on Drugs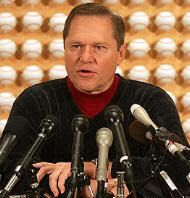 If you're in need of a good laugh, wait no further. We have Scott Boras to credit for the following knee slapper:
Agent Scott Boras told reporters that New York Yankees catcher Jorge Posada's four-year, $52.4 million deal, which was agreed to last offseason, will serve as a benchmark for any team looking to land [Jason] Varitek.
God bless the almighty Rotoworld for passing that snippet along. Need I remind you that Jorge Posada batted .338, with 20 home runs, 90 RBI, and nearly a 1.000 OPS in his walk year? Needless to say Jason Varitek's .220 and 43 RBI performance last season is worthy of a Posada-like contract. There was a time when their career numbers were quite similar, but there's no doubt that Jason Varitek's offensive production has fallen off a cliff the last three years. And if Boras thinks teams will pay $13 million a season for a defensive-minded catcher with a reputation for winning (don't think that won't change when he catches Cincinnati's pitching staff), he's absolutely on drugs. I wonder if Boras also planned to marry Heidi Klum coming out of college. Nothing wrong with setting your benchmarks high, right?