Please Send All Comments/Questions to [email protected]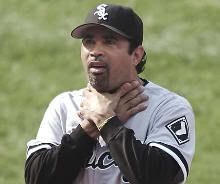 A few years ago, Ozzie Guillen made his email address public notifying fans that they could send comments and questions, good or bad, to him personally at [email protected] I thought I had sent him one at some point in time, but I can't really locate it. Regardless, whatever I may or may not have sent could not have been as good as the chain Chicago Sun-Times columnist Rick Morrissey sent Ozzie recently. By my count, Morrissey sent about five emails from a pretty generic address where it would have been tough for Guillen to connect the dots back to the writer, before he finally got a response. As Morrisey told it:
On Saturday morning, I was sitting in the Busch Stadium press box before the Cubs-Cardinals game when I thought of the TV commercial Guillen and Piniella had recently made for some car dealerships. In it, they have a rap-off.
…
Ozzie:

I just saw your car dealership ad with Piniella. You should stick to managing. 77-year-old Jack McKeon can rap better than you.

Rick

Then I forgot about it. Four hours later, I checked my mail, and there it was. From: [email protected] I opened it.

You have to be stupid. Get a life, loser. I hope you have no kids. They have to be like you.
So there you go, badger Ozzie from a generic email address about five times, and you can wind up hearing a response like that. Actually, OG13 says he has used the advice of fans to make a lineup change in the past, batting Pierzynski 2nd and Quentin 3rd. I'm going to wait until this blows over before I start sending him my thoughts. And I probably won't stop until I hear a response, either. At least he should appreciate that I want to induct him into the Hall of Fame. I'm probably the only one.