That Gil Meche Signing Was Good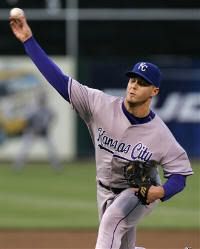 It's pretty easy to rip the Kansas City Royals — I mean they've been about as bad as it gets for the last five years — losing at least 100 games in four of those seasons. Seriously, that's bad. Like really bad. Like, couldn't you at least turn it around in one of the years since, bad? Well, given how shitty the Royals have been, pretty much everyone in the free world ripped them for signing Gil Meche to a 5 year $55 million deal in the off-season. I think there were two aspects of the signing which particularly incensed most people. First, that the Royals had the gall to spend a lot of money on a free agent. And second, that they spent $55 million on a pitcher most people hadn't heard of.
In my baseball preview of the Royals, I said that it wasn't a bad signing given the market for pitchers. Well, I was being generous compared to mostly every other writer and media outlet with my assessment of that particular signing. Well guess what folks? I'm here to say it's time for everyone to apologize to the Kansas City Royals. They deserve a little recognition for a job well done (so far). Gil Meche (in case you haven't noticed) has pitched some of the best ball of his life since cashing in over the Winter. The guy is fresh off 7 innings of shutout ball against the A's in which he received a no-decision. He's 3-1 on a team that's 13-26. He leads the league in innings pitched at 61.1. He's third in the league in ERA at 1.91. Simply put, Gil Meche has been awesome for Kansas City this year. So yes, take note of his strong start to the year, and if you ripped the Royals, take a moment to apologize to them. At least they got one thing right.