Tigers Manipulating Roster at Expense of Dontrelle Willis' Reputation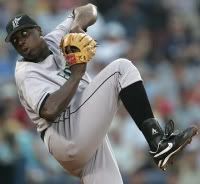 This is slightly presumptive of me, but I'm not buying the whole "Dontrelle Willis has an anxiety disorder" thing. Much like when teams put a pitcher on the disabled list after they got bombed in a game, I think this is just a convenient excuse for a bruised ego. The Dodgers placed Andruw Jones on the DL last year with a knee injury. U-Jones later admitted that he asked to get away because he was sucking so badly. I'm figuring this is the same situation for Dontrelle and the Tigers.
The D-Train has been derailed since his last season in Florida in '07 when he went 10-15 with a 5.17 ERA. Last year with the Tigers was a nightmare as Dontrelle went 0-2 with a 9.38 ERA and 35 walks in 24 innings pitched. He was so bad he got demoted all the way down to Single-A ball — not Triple-A — which would be the logical step downward. Willis was doing even worse in Spring Training, posting an ERA north of 12. Most of the time I can see right through the move when a team places a player on the disabled list as an excuse for the guy struggling. This is clearly one of those instances.
The thing I don't get is why the Tigers are saying Dontrelle has an anxiety disorder, one that was discovered with a blood test no less. Medical professionals argue that such a disorder can't even be determined by a blood test! So if it's pretty plain to see that Willis wasn't fit to play ball right now and needed time to figure things out, why didn't the Tigers just make up some sort of injury like teams usually do? Why not just say the guy has some sort of arm injury, or better yet, a knee injury related to the one he had surgery for last season? Why not just do that instead of telling the world he has anxiety issues? Is there really a need to kick a guy when he's already down?