Vin Scully doesn't understand hashtags or Dog TV (Video)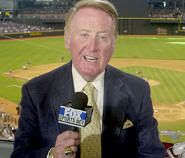 Vin Scully was in peak form on Wednesday night when doing a read to promote a Twitter poll.
Prime Ticket wanted fans to say whether they preferred watching games in a hitter's or pitcher's park, and the fans were asked to vote using a hashtag. The result was a fantastic rant by the legendary 85-year-old Los Angeles Dodgers broadcaster, who wondered aloud what the heck a hashtag was.
"Can I ask you an honest question? What in the world is 'hashtag?'" asked Scully.
The true golden part of Scully's comments came when he segued into a rant about Dog TV, which is a new channel in San Diego on Cox TV and Time Warner. It's a channel dedicated to 24/7 programming for dogs, aimed at dogs who are at home by themselves.
"It is to comfort pets when the owner is not at home," a perplexed Scully explained.
But the real gem of the highly-amusing minute-long speech from Scully came when he got down to the bottom line.
"How do you sell a sponsor to a pet?"
Don't worry, Vin, I'm 29, use Twitter and social media for my profession, and I still don't get what a hashtag is. I also wonder about that Dog TV, too. You're not alone, my friend.
Want more awesome Vin Scully broadcasting moments? We've got you covered.
– Vin Scully lip-reading an ejection in hilarious fashion
– Vin Scully baffled by teams' inability to execute a rundown
– Vin Scully joking about Jack McKeon's lack of Twitter knowledge