What's Wrong with Lance Berkman?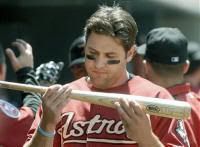 Hey, you remember that Lance Berkman guy? The stud who made you forget who that goateed first baseman was…Bag…er, I forget. I digress, Lance Berkman has been an absolute beast ever since his first full-season in the bigs in 2000. The guys career OPS is .975 — I think that says enough. He's bombed over 40 twice, driven in over 100 four times, and he's hit over .300 three times. Simply put, when the guy's in the lineup and healthy, he mashes. Until this year.
Lance Berkman is struggling like no other. I mean, his .265 batting average isn't embarrassing. Nor is his .780 OPS. The fact that I'm even writing this considering those numbers speaks to Berkman's abilities. But check this out: he only has six extra-base hits on the year. Six! That's it. Five home runs and one double. No more, no less. Lance says he isn't concerned, just irritated. But come on, when Ryan Freel and Yuniesky Betancourt have higher slugging percentages than you, you know something's up. And something is definitely wrong with Berkman. I'd like to see him fix it.