Are You Kidding Me Derek Fisher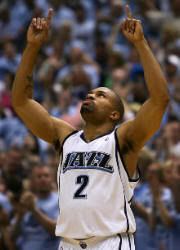 Wow. Talk about wow. I cannot believe the story from Wednesday night. The Jazz beat the Warriors 127-117 in OT, taking a 2-0 series advantage. Putting aside the stellar performances of Mehmet Okur and Carlos Boozer, Derek Fisher did something incredible. Despite spending the entire day with his 10 month old daughter Tatum, whose case of retinoblastoma required a three hour combination of surgery and chemotherapy at New York's Presbyterian Hospital, Fisher showed up in Utah in time to help the Jazz win the game.
Fisher missed most of the first three quarters, then ran straight from the tunnel onto the court late in the third period to a standing ovation and a few high-fives and hugs from teammates, as well as Golden State's Baron Davis.

"He got off the plane. He didn't warm up. He didn't stretch. He didn't shoot a shot," said Utah's Deron Williams, who had 17 points and 14 assists. "As soon as he came into the arena, he went straight to the scorers' table."
You know how they say a good baseball player can roll out of bed and get a hit? I guess Derek Fisher can literally get off a plane and hit a 3 point shot. Fisher made the game 123-117 with his long ball in OT, and sealed it off with a pair of FTs to make it 127-117. Talk about an incredible story. And I truly mean it when I say couldn't happen to a better guy. He's been a fan-favorite everywhere he's played because he's such a good guy. Serious congrats to him on the big night.