Chris Paul: The Human Cell Phone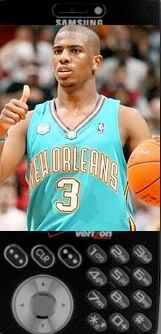 Hornets point guard Chris Paul returned from a 25 game absence on Monday night to help the Hornets beat the Mavericks 115-99. Since Paul was out nearly two months with his knee injury, he wasn't at full strength against Dallas. CP3 played just 21 minutes, finishing with 11 points and three assists. Paul apparently wanted more action than the coaching staff allowed him to play:
"I asked, 'Could I play more,' but they was like, 'No, no way,"' Paul said. "It was like I had a cell phone. At halftime, I kept telling the guys I only had 12 minutes left. That's all I had left on my daytime minutes."
Maybe Paul's angling for one of those T-Mobile commercials that air on TNT constantly. Even though CP3 played limited minutes, his presence was crucial for the Hornets who are now 22-17 when he plays and 12-21 without him. New Orleans also experimented with something that will be interesting to monitor the rest of the season: Paul and Darren Collison in the same backcourt. With his value high, the Hornets might be tempted to trade Collison in the offseason. First, they're going to see how the speedy point guard combo works. So far so good.