Gregg Popovich: Guys 'Played Like Dogs', Calling Out Richard Jefferson?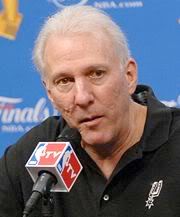 The Spurs lost Game 1 of their Western Conference 1st round series to the Mavericks 100-94. The game was close but close is not good enough when you're trying to win an NBA title and beat a loaded team like the Mavericks. Spurs coach Gregg Popovich, who's never shy about speaking his mind, let loose after the game. He was pissed about the team's sloppy play including allowing too many put-backs and turnovers. Mostly though, I think he was really upset about the poor play by Richard Jefferson. Here's what he said after the game:
"That's just a sloppy game, there's no reason for that. So I was very disappointed in us not being very sharp and I think we've got to have a few more people step up and play worth a damn. I thought we had a lot of guys that played like dogs."
Jefferson played 32 minutes scoring just four points on 1-4 shooting. He committed two turnovers and was dominated by Caron Butler who finished with 22 as the second leading scorer for the Mavericks. Manu Ginobili and Tim Duncan played relatively well (their weakness was combining for 11 turnovers), Tony Parker played well for George Hill who has an ankle injury, and Antonio McDyess stepped up. Unless Pop's upset with Matt Bonner, Keith Bogans, or Roger Mason — all important pieces but nonetheless role players — he was pointing the finger at Richard Jefferson. We know Popovich strives for excellence and tries to push his players so you have to figure that's exactly what he was doing here. He's no stranger to playing mind games.