Is Andrei Kirilenko Asking for a Trade?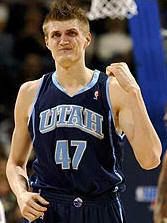 Site contributor and saddened Dodger fan, Chris, emails in with the tip that Andrei Kirilenko, fresh off a Eurobasket 2007 win, would like to be traded from the Jazz. Here's the deal: AK47 wrote the words in his Russian blog, so the best I can offer is the google translation. According to the translation, AK feels unsatisfied with his role under Coach Sloan:
I am convinced that the methods Sloan had a negative impact on me. His main method of motivating players – care guilt. Our wages, our mistakes in the games, our actions outside the track is always cause for criticism. I want to play basketball, I want to enjoy it and not be a robot, piece of Sloan. Therefore, do not see their future in the team, "Utah Jazz.
…
I did not say that to anyone before, but a few weeks ago I spoke with the general manager "Yuty" Kevin O 'Connor. I told him do not see themselves in a team and want to leave. It is clear that we are "different" Yutoy look at my place and role in the team. I do not want that, I and my contract was drag club, I would like to take its course. This is his choice. And I have only one request-let me go in the direction where I want. I do not want to serve the number mechanically perform the contract.Unfortunately, the past week more, and the leaders of "Jazz" no response, no negative or positive. And his silence is another example of me. Nevertheless, it is hope, the "Concept" still understand that our relationship has exhausted itself and us is to part.
Wow. I have no idea how legitimate that is since I don't read Russian. I would like to see an additional source reach out to AK to find out if that's what he's indeed asking for, but I'll say I'm not surprised if that is the case. Think about it — Kirilenko is a world-class player, one of the best defensive players in the NBA. Yet it doesn't seem like he's been able to thrive in the Utah system. If he's really asking for a trade, I would not be surprised one bit.
UPDATE: The Salt Lake Tribune confirms Kirilenko's trade demands, thanks to Matt W. for the link.