Is Baron Davis Playing the Field?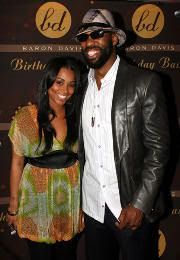 Earlier in the month we had rumors that Baron Davis and Desperate Housewife Teri Hatcher were smitten with each other. People said they were practically in love. If that's the case, then what's up with Baron being seen around town with Lauren London? Does that make the rumors false? Maybe not, says Bossip:
A source close to Bossip says that the "relationship" between Baron and Lauren is just for her press coverage, but his relationship with the cougar actress is genuine. The snitch also mentioned that Lauren is a gold digger that gets around and is definitely f*ckin for tracks publicity.
Maybe Baron's just trying to throw all of us off the scent. Who knows. But I'm all for the Baron + Teri hookup. They couldn't be more perfect for each other. In fact, wouldn't it be tight if the entire Desperate crew dated NBA stars?