Jason Kidd Is the Difference Maker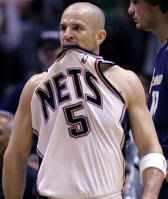 Jason Kidd has already confirmed his request to be traded by the February 21st deadline from the New Jersey Nets. That's not much of a surprise considering he literally called in sick earlier in the season because he was unhappy with the team. Putting Kidd's current attitude towards the Nets aside, I think he really could be the difference maker in the NBA this year. While the Boston Celtics have established themselves as the class of the Eastern Conference, the Western Conference is full of competitive teams. Adding Kidd to one of those top four or five playoff squads could mean a championship.
They say the Dallas Mavericks have already contacted New Jersey regarding Kidd. Now that Devin Harris is out for a few weeks, I could easily see Cubes trying to make a deal like that happen. As Kobe said in the video — it's Jason freaking Kidd we're talking about. He's an All-Pro. He's been to the NBA Finals. Obviously a team like the Suns or Hornets wouldn't need him, but come on, you stick him on Boston or Dallas, you telling me you don't have yourself a championship? You gotta be kidding me. Keep your eye out to see where (and if) Kidd lands, and I think that team will go to the final. Acquiring Jason Kidd could mean getting yourself a ring.