Mutiny in San Antonio with the Spurs!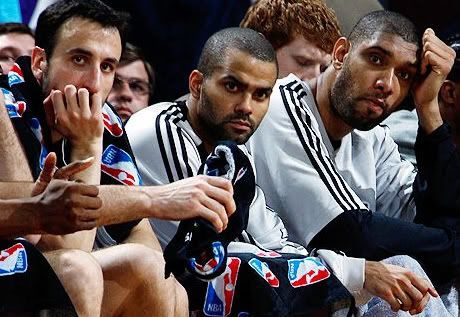 If you saw any of the Spurs/Nuggets game Tuesday night, you may have noticed that San Antonio's Big Three were nowhere to be found on the court. Manu Ginobili did not dress because of a hip contusion sustained in the overtime win against Golden State. Tim Duncan and Tony Parker dressed for the game and were healthy but did not see any action. The reason according to Gregg Popovich:
"Parker makes the All-Star team and becomes hard to deal with, so we're going to sit him and teach him a lesson. Duncan says he wants to renegotiate his contract, so I said, 'Sit, I'm not talking to you.'"
Of course Pop was just joking around, knowing full well that his players need to refuel the tanks for their upcoming "Rodeo Road Trip." The Spurs will now have four days off to prepare for a prime-time matchup on Sunday in Boston, not to mention back-to-backs in New Jersey and Toronto two days later. And with Chris Paul getting hurt for the Hornets Monday night, Pop knew exactly what he was doing. Plus, give the guy some credit — he seems to have developed quite the sense of humor this year.