Stan Van Gundy Knows There's a Double Standard with Playoff Suspensions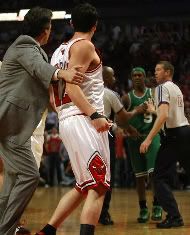 I spent the bulk of my radio show last week (yes, time to plug the show Friday night/Saturday morning, 2-8am ET on Sporting News Radio) bitching at the NBA for playing favorites regarding playoff game suspensions. They had no problem tossing Dwight Howard for Game 6 following his elbow of Samuel Dalembert in Game 5 last series vs. Philly, a suspension he did deserve. The league didn't suspend Rajon Rondo for his hard foul in Game 5 on Brad Miller which was also the correct call, though Rondo deserved a flagrant for it. The one area where the league missed out and probably played favorites in my opinion is when they failed to suspend Rondo for Game 7 against the Bulls following his actions with Kirk Hinrich in Game 6. Rondo initiated the skirmish and threw either a hand or elbow towards Hinrich and definitely deserved the boot. But since Game 7 was the deciding game in an exciting series, the NBA went soft. Of course. Couldn't be controversial by taking out one of Boston's best players in a game of that magnitude. Magic coach Stan Van Gundy may have been wrong in his judgment of what deserved a suspension, but he is on-point about the NBA playing favorites:
"The problem that players have, coaches have, and fans have, is they can't fathom that the slap to the head (by Alston), which was minor, was a one game suspension. And what Rondo did to Brad Miler was nothing," Van Gundy said. "David Stern says the league can't take the chance injury, but I'd say the Rondo-Miller play had a lot greater chance of injury than what Rafer did to House."
…
"The question everyone has is why, when Brad Miller is going to the hoop, why can (Rondo) just take a swing at somebody. The only ones who agreed that he didn't wind up and follow through were Stu Jackson and David Stern," Van Gundy said. "Everybody else , including Boston fans, agreed that he (Rondo) wound up and followed through. But that's how they saw it."
Like I said, I disagree with Van Gundy about which plays deserved suspensions, but I like that he's raising this point. The more vocal he is, the harder (hopefully) it will be for the league to pick on the smaller guys from the lesser markets. Do you think Stern could handle the backlash if Rondo were suspended for Game 7 or if Kobe got the boot for Game 3 after his elbow on Artest? Not a chance. But with Van Gundy being boisterous it makes it harder for this stuff to slip through the cracks without a peep. I wonder how much he'll be fined for those comments.