Further Evidence Suggest Yi Jianlian Lied; He's 24, Not 21-Years-Old
The Milwaukee Bucks were pretty persistent in their initial drafting and pursuit of Yi Jianlian who did not want to play in middle-America. They seemed to be quite smitten with him because he was talented, tall, athletic, and best of all … he was young! But what if Yi Jianlian were really 22 when drafted, not 19 as he professed to be? All of a sudden the allure and prospects go out the window, and then he becomes on par for judgment with your generic college seniors. This was an issue that was raised by Tom Ziller at Fanhouse a year and a half ago, citing Draft Express as his evidence.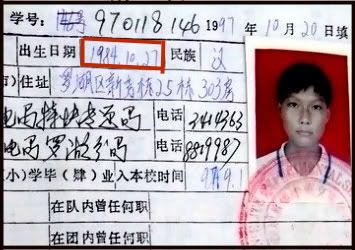 Now, in the wake of a Chinese crackdown on age shaving that shows 36 players gave false ages, it's starting to appear more and more like Yi provided the NBA a false age. As Sports by Brooks has shown, Interbasket.net even has a document (a school report you see above) that appears to show Jianlian's real birthday — that he was born in '84, not '87. Of course, this would be nothing new in the sports world as we have come to find out. There's a lot to be gained in the sports world being "young and talented" rather than just talented, and apparently Yi's handlers understood that when they swindled a bunch of cash from NBA teams.