Bob Arum Plays Race Card in Defense of Antonio Margarito, Is Totally Wrong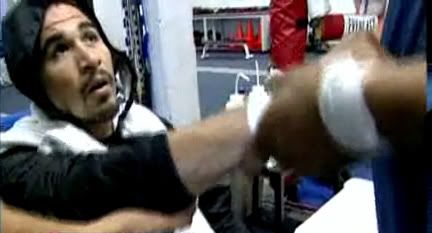 Just as Top Rank promoter Bob Arum was incensed at the year-long suspension of his fighter, Antonio Margarito, by the California State Athletic Commission, I'm incensed at Arum's comments in defense of Margarito. In the same breath where he exclaimed "This is America" as if to say "We don't punish famous/rich people here!" Arum let off this rant, keeping his race card handy:
"You take a kid who's done absolutely nothing wrong, and there isn't a shred of evidence he's done anything wrong, and you revoke his license for a year? Are you crazy? This is America! It doesn't work like that. If this was anyone other than a Mexican kid, there'd be a different result. I know that for a fact! The trainer does something wrong and the fighter who knows nothing suffers the consequences? What kind of nonsense is this?"
Their excuses were so lame. To say the pads were "tossed into the bag" by another fighter who trains at the same gym is pathetic (which is what the trainer said). To try and set things up for the trainer to be the fall guy is irresponsible. The bottom line is that Antonio Margarito and his corner got busted for cheating — putting plaster pads on his gloves that were intended to hurt his opponent, Shane Mosley, and help give him a decisive advantage in the ring. They got busted for cheating and were forced to unwrap prior to the right. What more evidence do you want?
How is that any different from a hitter and batting coach getting caught corking a bat in the umpires presence prior to the game? This has nothing to do with race, Arum. Screw your head on straight before you lose any more credibility. Just admit fault so I don't have to ignore everything you say the rest of your life, your credibility hanging by a thread. The only thing I will say in favor of Margarito is that it's ironic he gets suspended from fighting in the U.S. for a year for loading up his gloves while the fighter to whom he lost was a BALCO boy — Shane Mosley. I think the the penalty imposed on Margarito and his trainer is a proper reflection of the severity of the infraction they committed.