The Day in Hollywood, De La Hoya vs. Mayweather Jr.
I told you I'd be checking in today at the final stop of the 11 city tour promoting the May 5th bout between Oscar De La Hoya and Floyd Mayweather Jr., and let me tell you, it was a lot of fun.
The conference took place at Grauman's Chinese Theater in the heart of Hollywood, right on the Walk of Fame. Pretty Boy Floyd wasted no time trying to go "LA" on the crowd. Let me tell you, they weren't having any of it. Oscar was the real hero of the city.
Pretty Boy did most of the talking, matter of fact, all of the talking. Oscar was quite humble in his approach. There's the photo below (explained in my audio recap of the day) and plenty more pictures if you continue reading.
The almighty stare-down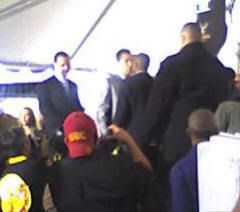 Pretty Boy looking Pretty
Oscar De La Hoya at the luncheon
Oscar's trainer, Freddie Roach