Tony Stewart Hates Goodyear Tires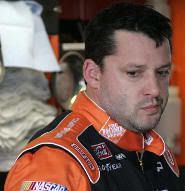 This is nothing new for Tony Stewart, driver of the No. 20 car. Despite finishing second in the Spring Cup race Sunday, the solid run did nothing to change his horrible opinion of the tires he was running on — Goodyears — the provider for NASCAR. Check out the comments made by the irritable Stewart following the race, and let's just say he won't be signing any Goodyear endorsement checks anytime soon:
It's just a shame that the teams work so hard and spend so much money to compete and it's all dictated by a tire company that's building tires that aren't not worthy of a street car. The first thing I'm doing when I go home is dismounting anything I got that's got Goodyears on it.
…
We don't want to have to race on tires like we raced on today, every week. There wasn't anything about today's race that was fun — I don't think for anybody.
Stewart wasn't the only driver to complain about the tires after the race in Atlanta — Dale Jr. got into the act as well. He pleaded to NASCAR not to use the same tires again "at Darlington because that will definitely top how horrible [Sunday] was." Man, I have to say, I just love Tony Stewart. Dude is such a loose cannon. Gotta love the guys who never say the right thing and have that "I don't give a ****" attitude. Does he give a crap how much money Goodyear is paying to be the exclusive tire provider of NASCAR? Heck no. He'll rip anyone, anytime, any place. Gotta love that.