Better Hope he makes it to 100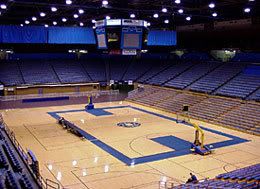 Now this is a topic I had always thought about when I was a student at the wonderful campus of UCLA – why isn't the football field on-site, and why is Pauley Pavilion so out-dated (and not named after John Wooden). They sort of fixed the latter issue by naming the court "Nell and John Wooden," but the name of the building still remained Pauley Pavilion. Well, I just received a press release from the Bruins athletics department, and I'm proud to announce that
photo courtesy csus
UCLA has moved the Pauley Pavilion renovation process forward and selected an architectural firm to prepare preliminary renovation and expansion designs for the historic structure, a campus landmark for more than 40 years and the home court of 38 NCAA championship teams. The goal is to dedicate the restored Pauley Pavilion on October 14, 2010, to honor Coach John Wooden on his 100th birthday.
And Wooden thought there was pressure in defending a national championship and lengthy unbeaten streaks? They better get a move on things. And it looks like the campus is moving in the direction of the 21st century
Among the many enhancements being considered are a new retractable seating system to bring spectators closer to the court, and new concession areas, restrooms and modern arena technology to enhance fan experience; new and expanded locker rooms, medical treatment and media rooms and dedicated practice facilities; a main lobby that would serve as a central entrance and celebrate UCLA's illustrious athletic tradition, and redevelopment of the area between Spaulding Field and the arena.
I guess that's what you get when your new (and brilliant) coach, Ben Howland, revives the program to a national powerhouse level.