Finally Ohio State Loses Sparing Us All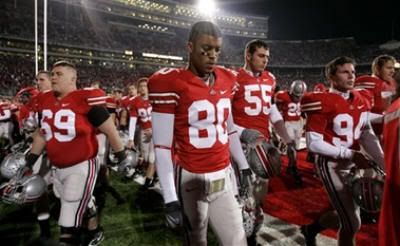 I don't think I've been less enthusiastic about a team recently than Ohio State. Ever since getting run off the field by a one-loss Florida squad in the title game last year, I've thought very little of them. Once that happened, nothing accomplished in the Big Ten could impress me. Think about it; Ohio State ran through everybody in the conference only to get squashed in a game for which they had weeks of preparation. That's why I had just been waiting every single week for them to finally get knocked off. Who really wanted to see them get embarrassed yet again in a title game? Certainly not me — I've already seen that show and it sucked.
Ohio State lost at home to Illinois. Illinois is not a very good football team. The Buckeyes couldn't stop a running quarterback, letting the Illini run over eight minutes off the clock with their final fourth quarter drive. If they couldn't stop Juice Williams who isn't even a threat to pass the ball, what would they have done against a Dennis Dixon or Matt Flynn/Ryan Perrilloux combination? Suffice it to say that an Oregon team which whooped up on Michigan in the Big House would've done the same to Ohio State.
Now the door has finally opened up for an Oregon/LSU match up which I think would be the most fulfilling in the entire country. Will those teams hold up their ends of the bargain? I don't know, but I sure hope so. I'm just glad we've all been spared from having to watch Ohio State get run in a title game for the second year in a row.
UPDATE: CONTROVERSY IN COLUMBUS?
SpinMax emails in to say that Ohio State could have been jobbed by some disgruntled officials in the game. Apparently there are some Big Ten officials from the Penn St/Purdue game facing suspension for poor calls two weekends ago. Turns out this is the same crew (warning: link is a PDF file) that also worked the Ohio State game, and Spin thinks revenge against the conference could have been on their mind.
(AP Photo/Amy Sancetta)