Retirement? Say It Ain't so Chamique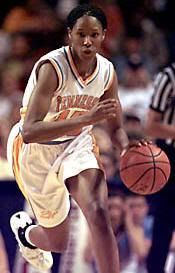 This is the saddest thing. I remember like it was yesterday when Chamique was making women's college hoops somewhat popular on ESPN, balling it up for the Lady Vols. And what, less than 10 years later she's hanging it up? What will Sparks fans do without her?
I'm not Mr. up-to-date when it comes to the WNBA, but I'm pretty sure they're in season right now. Matter of fact, I think the Sparks are 3-2, and Holdsclaw is their leading scorer. And she's ditching them mid-season, knowing full well that the team is without the other star, Lisa Leslie who's pregnant. Thanks for the effort there, Dottie Henson. I wonder if she'll be giving any of her max-salary $93,000 back to the team. I really don't, I just wanted to point out that the max-WNBA salary was less than I make bootlegging DVDs on 5th and Alvarado.
So this marks the end of a fine women's basketball career. And now, the amount of players in the WNBA I know by name has shrunk by 20%. Is Lobo still in there? Swoopes? Taurasi? I think I might have hit one. What a shame, an utter shame. How is the league expected to survive with a star player like her retiring during the year? Maybe the WNBA is on its last legs…and that might not be such a bad thing.