Bill Parcells Might Want That One Back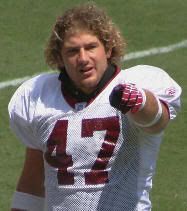 We've all heard analysts get their share of predictions wrong over time. It happens. But we don't often hear about the bad calls coaches make. I guess we only see it when they get fired. Anyway, Washington Redskins TE Chris Cooley is the latest athlete to begin blogging at Yahoo! Sports. In his first entry, he tells the story of the day he got drafted. Prior to being drafted in the 3rd round to the Redskins, Cooley says he flashed back to a visit with the Cowboys and Bill Parcells:
My mind drifted back to a trip to visit the Cowboys. Everything was great until I made my way into Bill Parcell's office. After sitting down, the first words out of his mouth were, "I'll be honest, the reason you're here is because we like you as a special teams player. I don't think you'll ever be a starter in the league. We're thinking about taking you around the sixth round."
Let's see, 27 touchdowns, three straight 700-yard seasons, and not a game missed in his entire four year career, I'd say Parcells could have been wrong about that one. Let it be a lesson to all aspiring players out there: believe in yourself and continue to work hard. Even Bill Parcells gets em wrong from time-to-time. Very wrong. Not like any of his teams could have used a Pro-Bowl tight end, right? Didn't think so.