Time to Change the NFL Playoff Seeding Structure, Again
We went over this last season when Roger Goodell said there would be some talks about revising the playoff seeding structure. The proposed revision would ensure that wild card teams with a better record would have home field advantage over division winners with worse records. I'm not suggesting we do away with division champions so teams like the 11-5 Patriots would get into the playoffs over the 8-8 Chargers because I agree with the proximity, rivalries, and interest the division battles create. However, I still wonder why a 12-4 team like the Colts should travel to the 8-8 Chargers home field for their Wild-Card Round playoff game.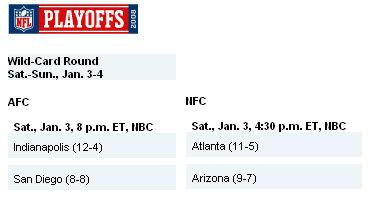 In the this year's playoffs alone, we'd see two changes in game locations for the Wild-Card Round if the seeding were done by record. Not only would the Colts rightfully be hosting the Chargers, but the 11-5 Falcons would be hosting the 9-7 Cardinals. Just merely making it into the playoffs by virtue of a weak division is a good enough gift. Why also reward all division winners with higher seeds than the teams that posted better regular season records? In reality, teams like the Steelers and Giants can come along and run through every team in the playoffs on the road, but it's rare. Home field matters — there's a reason why it's a huge advantage in the NFL. If a team had earned a better record than another, they should be rewarded with a home game. Simple as that.