Peyton Manning Reverts to Old Form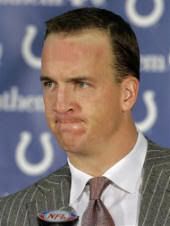 It might be difficult at first to ignore Peyton's gaudy statistics; 402 yards and three touchdowns is nothing to sneeze at. But even with those big numbers there is something you can't forget: Peyton Manning threw two interceptions — both in Charger territory — costing his team points and drastically changing the game. The first pick was off a tipped ball so it's hard to go crazy blaming Peyton for that. The second interception came when the Colts were inside the San Diego five and went the other way for six if it weren't called back by a penalty. No doubt the Colts missed those extra points they left on the board.
Perhaps the most telling sign that Peyton reverted to his former, big-game choking self, is that he was a dismal 1/7 in his last seven passes of the game. At that time, the Colts were down four and needed a touchdown to take the lead. Indy was first and goal with just over two minutes left when Peyton missed on 2nd, 3rd, and 4th and goal. Thanks to his defense and the ineffective Billy Volek, the Colts got the ball back with 1:30 at their 32 looking to win it. Peyton completed the first pass to Addai for five yards, then missed on 2nd, 3rd, and 4th downs, turning the ball and game over to San Diego. Just like that, the 400 yards, three touchdowns, 4,000 regular season yards and 31 regular season TDs seemed meaningless. When it mattered the most, Peyton Manning could not lead the game-winning drive. We may now repeat it — typical Peyton Manning in a big game.
(Photo courtesy Darron Cummings/AP)