Vince Young Is Like Doug Flutie?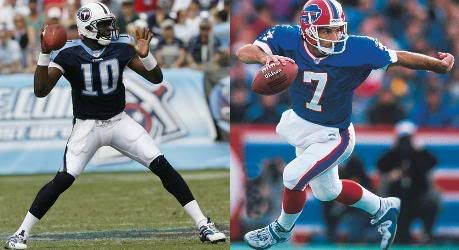 I've heard a lot of unusual comparisons before in my life, but I've never heard one as hard to imagine as this one is. New Titans receiver Eric Moulds who I'm advised by ESPN's fantasy football preview has the best hands in the league, says his new quarterback Vince Young, reminds him of his old quarterback, Doug Flutie. From The Tennessean:
"They are similar, and Vince does a lot of things I saw Flutie do for years," Moulds said with a smile, reflecting on their time together in Buffalo, from 1998-2000. "I guess the biggest difference with those guys is I can see Vince when he is in the pocket and throws the slant route.
…
"Just the other night I saw Vince make a guy miss and then step up in the pocket and throw the ball to a receiver downfield, and that's the kind of thing Doug Flutie used to do," Moulds said. "Other times he'd just take off.
Only difference being of course, that Young is about 6'5″ 230, while Flutie was 5'10" and probably 170. I've always wondered why people were hesitant to liken a black player to a white player, and vice versa, but now I know why.