$250,000-$500,000 for a Photo of Tiger Woods? Really?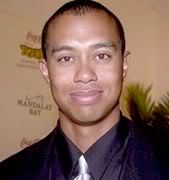 If you ever wondered why so many photographers hide out all day at someone's house just to snap a photo of them, now we know the answer. The Palm Beach Post revealed that the pictures of Elin Nordegren without a wedding ring on her finger went for $100,000. They say that the first pictures of Tiger Woods since he went into "hiding" could fetch between a quarter and a half million dollars. As you could imagine, I'm both shocked and perplexed by this news.
Sure I understand that people are addicted to Tiger coverage and but I don't understand what the appeal of the "first Tiger photos" are. Is Tiger not already the most recognizable athlete in the world? Do we not know what he looks like? Please explain to me what will be so different about the new Tiger photos from any others. Now if someone had pictures of "Tige" banging some chick on the side of the road, then I'd understand why they'd fetch half a million bucks. But just plain old pictures of Tiger walking down the street? Please tell me what the appeal is for that. It's Tiger Woods. We know what he looks like — here's hundreds of them for your perusal.