So A-Rod, Madonna, and Jerry Seinfeld All Walk Into a Bar …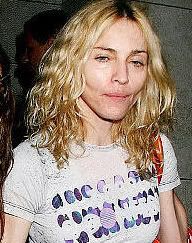 Could it be true? Is Jerry Seinfeld playing matchmaker in the A-Rod/Madonna love triangle? It appears as if the comedian's home in the Hamptons served as a sly rendezvous for Madonna and A-Rod not long ago. From Page Six via Ben Maller:
Our spies say the clandestine East End meeting between soon-to-be-divorced Madge and freshly single A-Rod occurred on Oct. 21. A chopper carrying the Yankee slugger was seen landing in East Hampton, where he was picked up in a white Porsche 911 matching the description of Jessica's [Seinfeld] car.

Less than 40 minutes later, another helicopter that took off from Chelsea Piers with Madonna aboard landed at the same airstrip.

"A dark SUV and Jerry in another Porsche both pulled up and picked up Madonna and they headed back to Jerry's place," a witness told us. "When they arrived at the Seinfeld home, Madonna poked her head out the window and could be clearly seen."
Much like the Yankees playoff hopes this season, A-Rod was in-and-out, leaving Seinfeld's mansion four hours later apparently. Hmm, I wonder what they were doing for four hours? A marathon kabbalah session? I'm sure that has to be it! I don't believe things could possibly get more weird nor disgusting.