Serena Williams Does Not Lose, Part II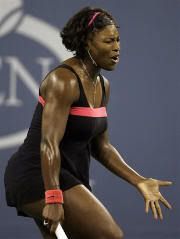 Back in June, when Serena Williams lost in straight sets to Justine Henin in the quarters of the French Open, I quipped that Serena does not get beat. Of course, that was in reference to her post match comments suggesting that although Henin destroyed her handily, it was because of Serena's own doing, not Henin's. Well, you guessed it, Serena is at it again. After being eliminated from her third straight grand slam by Henin (I don't sense a pattern developing at all, do you?), Serena was laconic in responding to reporter's questions:
Reporter 1: Serena, you've said that when you're playing your best, you can beat anybody in the world. Has this match done anything to change that feeling or do you still feel that way?

Serena: Do you think I played my best?

Reporter 1: No, no.

Serena: OK, well then.

Reporter 2: Serena, are you saying that you lost the match rather than that Justine won it?

Serena: I think that's usually the case with me, that it's for me to either win or lose. I really don't feel like talking about it to be honest — I don't want to get fined — that's the only reason I came. I can't afford to pay the fine since I keep losing.
Well, at least we did get some humor out of her comments. But come on Serena, we all know that competitors don't like to lose, but please, show some humility. Acknowledge that your opponent, who has eliminated you from three straight grand slam titles, has played well. Would it kill you to do that? Even if you are the best player, sometimes you have to give credit to your opponent for making things uncomfortable on the playing field or even — get this — playing a good game! Who knew? Is it possible that Henin just happens to play well against Serena? I certainly think so. Oh Serena, does it pain you so that you can't even drop in a compliment once in a while? I know Justine's got that whole herpes thing going on, but come on, she doesn't deserve your scorn, and neither do the rest of your opponents.
(Photo Courtesy Darron Cummings/AP)
UPDATE: Our Book of Scrap has the video.