Brace Yourself for the Release of Madden '09 Video Game on Tuesday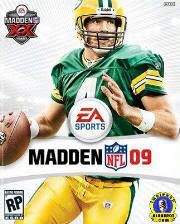 I'm not much of a video gamer these days, and to be fair, I really wasn't much of one growing up either (Nintendo and Sega were the only systems I owned). That as the case, even I spent a fair amount of time playing the Madden football games back in the day. I used to play it in the 90s on Sega and Super Nintendo with some friends from elementary school, and then later on Playstation while in college. These days I think the game has passed me by — you now can play against opponents online, build ridiculous franchises and players — it's just incredible what they've done with the game. And from the sounds of things, they're not missing me as one of the customers.
Since the game's inception in 1989, Madden football has sold over 70 million units raking in a reported $2.4 billion. That's just silly money. And people (many of you reading this), will be lining up to get a copy of the game for a retail value of $60 when it goes on sale at midnight Tuesday. They're even throwing a Maddenpalooza party at the Rose Bowl in Pasadena with live music from performers who appear on the game, as well as former NFL players signing autographs. And the game is so popular that a release party drew the likes of Hugh Heffner and his ladies out to celebrate. While the release of the Madden '09 game is highly anticipated, the big question that has already been proposed by many of you is: will the Madden Cover Curse take its toll on Brett Favre this year? Or has it already worked its mysterious magic?