Watch out! The Hornets are Healthy
Mark my words now, the Hornets will make the playoffs in the Western Conference and they'll be as high as a 7 seed. New Orleans/OK City was hit harder than any team in the NBA by injuries, but now that they're getting healthy, they're on a roll and on their way to becoming a force in the West.
Let me first wax on the myriad of injuries the Hornets have overcome. Free agent signing Peja Stojakovic hasn't played since November 24th because of back surgery. Last year's Rookie of the Year, Chris Paul, missed 17 games with a sprained ankle and has been back for just over a week. Guard Bobby Jackson missed 21 games with cracked ribs. Forward David West missed 30 games with an elbow injury.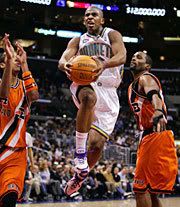 photo courtesy Mark J. Terrill, AP via USA Today

Despite all these tough times, the Hornets are 10-5 in their last 15 games (Jackson and West have played in 12 of these, Paul in 5). The squad is 3-2 since Chris Paul returned to the lineup, including road wins against the Rockets and Nuggets. While I'm in the business of pumping the Hornets, let me also tell you that Chris Paul is one of the most valuable players in the league. Heck, don't listen to me, listen to Byron Scott who said this about Paul in December,
I have been saying this all along, that he is one of the best point guards in this league. There is no doubt about it, and this is just his second year. He is the main reason that we are .500 right now with all of the guys we have missing. …He is carrying the load right now, and that is tough.
The Hornets outlasted the Bucks Thursday night in double overtime 109-101 with all the key parts playing big roles: Paul had 10 assists, West went 21 and 19, Desmond Mason scored 24, Tyson Chandler grabbed 22 rebounds, and Bobby Jackson added 12 points. The play on the floor was nice, but it's the comments of Byron Scott after the game that make me a believer in the Hornets
We've got some toughness. We're young, but we've got some toughness. We've got some heart.
They're also 4-0 in overtime games this year. I'm buying into the Hornets for this year and the future because I know they have that toughness and some good young players. Take note now, because they'll be there in May to remind you.