It is a seller's market in Major League Baseball this July. The bulk of MLB teams can at least claim to be in contention, sitting within five games of either the division or a wild card spot, and that means a lot of teams are going to be competing for limited resources ahead of the July 31 trade deadline.
Sure, most contenders would probably like to upgrade. But which ones really need to most of all? Here are ten teams that most need to make a move with the deadline looming.
10. Houston Astros
On the surface, the Astros would seem to have everything, sitting comfortably in first place in the AL West. However, they could use another starter behind the devastating 1-2 punch of Justin Verlander and Gerrit Cole. It won't be the end of the world if the Astros opt to stand pat, but in a loaded American League, their best shot at matching up with the Yankees may be to load up on pitching and put their aces up against their playoff rivals. Plus, some of their players are eager for reinforcements.
The landscape of the NBA has changed over the past several years, with superstar players going to greater lengths than ever to team up one another and build so-called superteams. Like many others from his era, Shaquille O'Neal says he would never want to be a part of something like that.
Shaq has spoken out against superteams in the past, and he addressed the topic once again in an appearance on "Jimmy Kimmel Live" this week. He said he would rather beat other star players than join them.
.@SHAQ on superteams today: "I'm from the era where guys wanted to compete and beat each other … I'd go on the team that needs a superstar and teach them guys how to beat the 'superteams.'"

(via @JimmyKimmel) pic.twitter.com/25NxcmwWrM

— Bleacher Report (@BleacherReport) July 17, 2019
Of course, many fans will argue that Shaq played for superteams while winning four NBA titles. He and Kobe Bryant were one of the most dynamic duos in basketball history, and he later joined up with Dwyane Wade to help lead the Miami Heat to a championship. However, those teams came together a lot differently from the way many of today's superteams do.
Shaq is not the only star player from his era to condemn superteams, but many of those who criticize them will tell you winning championships is all that matters. If LeBron James thinks he needs Anthony Davis to win another title, you can't blame him for doing everything he can to help bring him to Los Angeles.
Manny Machado has been following the situation with Jake Marisnick closely, and the San Diego Padres slugger is confident he would have been treated much, much differently if it were him who barreled into Los Angeles Angels catcher Jonathan Lucroy at home plate.
Marisnick slammed into Lucroy in a collision at home plate when the Angels played the Houston Astros on July 7. Lucroy was left with a concussion and a fractured nose, and Marisnick is currently appealing the two-game suspension he received from Major League Baseball. Machado shared some of his thoughts on the situation in a rant on Instagram live Tuesday night, and he said he would have been suspended 20 games if he did what Marisnick did to Lucroy.
That was only part of Machado's rant, which was primarily aimed at MLB Network broadcasters Eric Byrnes and Dan Plesac. Byrnes and Plesac defended Marisnick, and Machado said they did that because they have to "protect their guy." He also called them the "biggest tools out there."
Here's Manny Machado's rant from Instagram live about the Jake Marisnick situation and how MLB would have treated him differently https://t.co/ahtihDw17R

— Steve DelVecchio (@SteveDelSports) July 17, 2019
Marisnick was booed by Angels fans during his at-bats in Los Angeles on Tuesday night. Then in the sixth inning, Angels reliever Noe Ramirez hit Marisnick in the back with a pitch that was thrown up around his head. That resulted in the benches and bullpens clearing.
Machado believes Byrnes and Plesac would have said he deserved to have a pitch thrown at his head if he plowed into Lucroy. He also made reference to his recent one-game suspension for arguing balls and strikes.
"Other people do the same, they just get a slap on the wrist," Machado said. "It's all good. I just want people out there to understand where we come from, understand what it really is. Don't listen to these guys on TV. … Latinos have to stick together all day."
Machado seemed to be implying that he is treated differently by MLB officials, broadcasters and analysts because of his ethnicity. Some would argue that he has brought a lot of the criticism on himself with his dirty play.
H/T New York Post
Boston Red Sox pitcher David Price has a long-running feud with broadcaster Dennis Eckersley that keeps getting dragged to the forefront.
Eckersley and Price infamously had a heated exchange on a team flight in 2017, but never spoke to clear up the incident. In a Boston Globe feature released this week, Eckersley said he "[doesn't] plan on seeing him, never" and has no intention of apologizing.
Price gave a brief response on Twitter, but really doubled down Wednesday when asked by reporters.
Price is shocked this is still a story. "Two years. Two years. That's like 800 days." Wants to move on but they haven't had face to face meeting.

— Chris Cotillo (@ChrisCotillo) July 17, 2019
David Price on Dennis Eckersley: pic.twitter.com/bew0LDKKLn

— Chris Cotillo (@ChrisCotillo) July 17, 2019
In other words, Price is saying that it's a good indication of Eckersley's character that so few teammates were willing to speak on his behalf during a special about his career.
Price went on to defend Toronto Blue Jays pitcher Marcus Stroman, whose antics Eckersley called "tired" in June.
Price on Eckersley/Stroman feud from a couple weeks ago: "Have you seen videos of Eckersley pitching? Have you seen the stuff that he did when he struck somebody out? Really? Shooting them with a finger gun? Come on. Stroman is out there yelling, 'Yeah.' No. He needs to wake up."

— Chris Cotillo (@ChrisCotillo) July 17, 2019
This feud had largely been relegated to the backburner, and probably will be again in the coming days. The bad blood, however, is still as strong as it always was.
Nick Saban is a hard-nosed coach who expects a lot from both his players and assistant coaches, and that is the main reason many have said he is difficult to work for. If that's what it takes to achieve greatness, the six-time national champion has no problem with that reputation.
While meeting with reporters at SEC Media Days on Wednesday, Saban was asked if all the turnover on his coaching staff is a reflection of him being tough to work for. He said he finds it ironic that people say that and then coach their own programs with a similar style to his.
"You have to ask some of the people that work for me," he said. "Always interesting that, you know, they may say that, but then when they get a job and they go do it, they do it exactly like we did it. So, I don't know.
Saban noted how recruiting has become a 24/7 ordeal, and he said no part of the job with being a college coach is easy. He also explained how he tries to hold members of his staff accountable and to a high standard, which sometimes means doing things they don't want to do. He compared having assistant coaches to raising children.
"So you have to make a choice and decision: You want to do it right, or you want to make everybody happy? No different than raising your children," he said. "I go through this with (my wife) Terry when we're raising our kids. She wanted to make them happy, and I wanted to make them do right."
While his leadership style may not be for everyone, there's no denying Saban has helped countless coaches advance their careers. Even someone like Lane Kiffin — who takes swipes at Saban any chance he gets — understands how much working for the Alabama legend helped him. That's the trade-off when you work under him.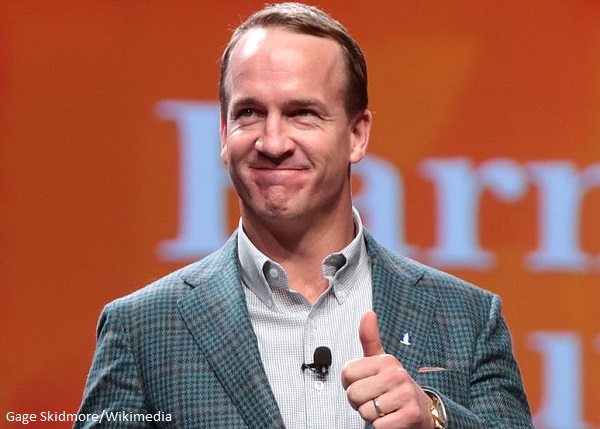 Peyton Manning has been highly sought after for a variety of jobs since he retired from playing, and working as a front office executive is one of them. While the future Hall of Famer is not considering that career path at the moment, he sounds like he could be open to it down the road.
TMZ caught up with Manning in Beverly Hills this week, and the first question he was asked is "when are you going to start running a team?" He hesitated at first, but he stopped short of ruling it out.
"I kind of like being a fan. It's just fun to be a football fan," Manning said. "I get to go to a lot of games, see the Broncos play, see the Colts play, see the Giants play. I'm kind of enjoying doing that part of it right now, so we'll see."
Manning has already been linked to multiple front office openings with teams, and many believe he will eventually try to take the same path John Elway took after he retired. He could also have his pick of TV jobs, though he recently indicated he may never get into that line of work.
Whatever he decides to do, Manning will find suitors. Even if he has no front office experience, he has been around football long enough and is a big enough influence that numerous teams would love to have him.
Several members of the Los Angeles Dodgers took issue with Hector Neris' behavior after the Philadelphia Phillies won Thursday's game 7-6 to earn a split in their four-game series.
Neris, who blew a save in the Phillies' win on Tuesday night, entered the ninth with a 7-5 lead. He allowed a two-out home run to Alex Verdugo but got Justin Turner to fly out to end the game.
According to Dodger Talk host David Vassegh, Neris stared into the Dodgers' dugout after the final out.
#Dodgers didn't like Neris staring in their dugout after that final out. Dodgers weren't leaving dugout

— David Vassegh (@THEREAL_DV) July 18, 2019
Hector Neris turned to Dodgers dugout yelled an F-Bomb. Team wasn't happy with that.

— David Vassegh (@THEREAL_DV) July 18, 2019
Max Muncy said Hector Neris must have been excited he finally was able to record a save against the Dodgers.

— David Vassegh (@THEREAL_DV) July 18, 2019
You can see the Dodgers' reaction to Neris:
I'm not sure what happened after the last out but it certainly got the Dodgers attention pic.twitter.com/itz25VPxjw

— Jomboy (@Jomboy_) July 18, 2019
Neris said after the game that his emotions got the best of him.
Hector Neris downplayed his postgame stare into the Dodgers' dugout. "The emotion of the series, you know, it's a great win for my team and just I let my emotion get out," Neris said. "That's all I have to say about that."

— Scott Lauber (@ScottLauber) July 18, 2019
Neris received a three-game suspension for hitting David Freese with a pitch on Tuesday night, seemingly because he was upset about surrendering a home run to Matt Beaty. His attitude with the Dodgers likely has to do with LA consistently owning him at the plate in his career.
pixel2