In Which Jason Richardson Does His Best Jeff Gordon Impression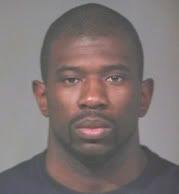 What is it about athletes getting busted for speeding that appeals so much to me as a story? Maybe it's because of the careless, reckless nature of these stories, and how stupid they are (the incidents, not necessarily the players). Take Josh Howard and Kenyon Martin for instance, who left their better judgment at home when they decided to try out for amateur roles in the remake of Speed Racer. What's the appeal there? And if you're Jason Richardson of the Phoenix Suns, you may not have outdone K-Mart's 101 in the 30, but you score bonus points for having your three-year-old son in the backseat without a belt:
Scottsdale police clocked Richardson, 27, traveling at 67 mph in a 40-mph zone of the 6500 block of East Camelback Road before the vehicle turned onto 64th Street. Police said Richardson then reached a speed of 90 mph in a 35-mph zone of the 5400 block of North 64th Street at about 8 p.m., when he was pulled over. The officer noticed that Richardson's son was not in a child seat in the back seat.
For that, the team suspended him a game. The bright side is that J-Rich wasn't under the influence of drugs or alcohol and that he admitted to speeding up front with the officers. The downside is pretty self explanatory. Maybe he was just trying to get home in time to catch Desperate Housewives. Can't imagine why that wouldn't have worked with the officers.