Most Ill-Timed Sports Injuries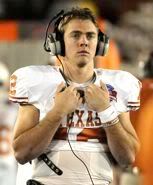 When Colt McCoy got hurt on Texas' first series in the BCS National Championship Game, the entire complexion of the contest had changed. With one hit, it was as if Texas' chance of winning the game had ended and that sentiment seemed to be confirmed when Bama's defense began abusing freshman quarterback Garrett Gilbert, McCoy's backup. Although Gilbert rallied Texas to within a field goal with six minutes left, Bama ultimately prevailed by forcing five turnovers in their 37-21 win. The events that transpired on Thursday night got me wondering about other injuries to a player that meant as much as McCoy does to Texas, which also happened to take place on a stage as big as a National Championship Game. While McCoy's injury tops the list, here are some others I could think of. Feel free to add to this list in the comments.


Carson Palmer injures his knee vs Steelers in '05 AFC playoffs
It was the Bengals first playoff game in 15 years and their star quarterback got hurt on his first pass play of the game. Kimo von Oelhoffen dove into Palmer's knee and absolutely shredded every ligament he had. Jon Kitna came on and went 24-40 for 197 yards, one touchdown and two picks. The Bengals lost 31-17 and the Steelers went on to win the Super Bowl.
Kareem Abdul-Jabbar injures his ankle in '80 NBA Finals
The Lakers' center had been tearing it up in the Finals against the Sixers, going for 33 and 14 in Game 1, 38 in Game 2, and 33 and 14 again in Game 3. Kareem twisted his ankle in Game 5 and left the floor but returned to convert a three-point play late in the game that helped put the Lakers up 3-2 in the series. Abdul-Jabbar was hurt too badly to play in Game 6 so the Lakers moved Magic Johnson to center in the title-clinching game.
LaDainian Tomlinson injures his knee in '07 AFC Championship Game

This was actually the first of two ignominious endings to seasons for LaDainian Tomlinson as the next year he lasted just five carries against the Steelers because of a groin injury. Tomlinson carried the ball just two times for five yards as the Chargers lost to the Patriots with a Super Bowl berth on the line. LT was the league's leading rusher and scorer that year but he departed from the game early with a knee injury, coming out looking worse because both Philip Rivers and Antonio Gates played despite being doubtful for the game. Tomlinson was pouting most of the game on the sidelines after the injury.
Yao Ming breaks his foot in '09 NBA Playoffs
The Rockets seemed to have finally turned a corner by getting past the first round of the playoffs, beating Portland in six games. They were 1-1 with the Lakers in the Western Conference semis when star center Yao Ming injured his foot in Game 3. Though he played most of the game, it was later revealed that Yao had a broken foot which has kept him out all of this season as well. Houston managed to extend the Lakers to seven games before ultimately succumbing.
Willis McGahee tears up his knee in '03 Fiesta Bowl
Willis McGahee was having the best season ever by a Miami running back, rushing for a school record 1,686 yards and 27 touchdowns. He had 67 yards and a touchdown in the title game for the Canes against Ohio State before getting hit by Will Allen and leaving the game with a badly torn up knee. Jarrett Payton took over once Willis got hurt, and he was an obvious downgrade. The Canes managed to tie the game at 17 and send it to overtime where they won 24-17. Until a bogus pass interference call gave the Buckeyes new life and Ohio State won in double OT. Bitter Cane fan in the house.
Can you think of any others?