Baseball Preview: LA Angels of Anaheim
Last year's record and finish are in parenthesis with projected improvement/decline indicated by plus or minus.

LA Angels of Anaheim (89-73, 2nd in the AL West) -4 games

*Disclaimer: This is my favorite team, therefore I will be exceedingly critical
Get Crunked: On paper, it's one of the best rotations in all of baseball, but you know what you can do with that piece of paper. Vladimir Guerrero still pounds the crap out of the ball and is an MVP candidate year-after-year. Howie Kendrick is a newcomer at 2B with a ton of promise (a career .361 minor league average). Franky Rodriguez is one of the top closers in the game, and along with Scot Shields, and free agent Justin Speier, forms one of the best bullpens in baseball. John Lackey has grown into the ace the Angels thought they had after '02, his rookie season.
Party Foul: It's not even April and this team is crushed by the injury bug. Bartolo Colon enters his fourth season with the club, still hampered by a partially torn rotator cuff he decided to let heal on its own in favor of surgery. Kelvim Escobar recently tweaked his back and is always good for a trip to the DL. Jered Weaver who dominated AL hitters last year is already hurt with a biceps injury that could sideline him for a month or so. Speedy Chone Figgins broke his finger and will miss at least a month. Juan Rivera broke his leg in Winter ball and will miss part of the year. The team defense was awful last year, and still is brutal with Garrett Anderson and Vlad holding down the corner outfield spots. Not to mention, there's that Gary Matthews Jr. guy who created an entire steroids/HGH controversy during spring training.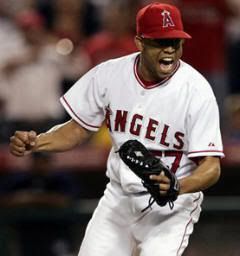 Franky Rodriguez is nails as the closer,
he led all of baseball with 47 saves last year

What'd my GM do: He sat back like usual and kept his acquisitions few and far between. His big "splash" was alleged HGHer Gary Matthews Jr., click here to find out what I thought of the move. Justin Speier replaces Brendan Donnelly in the pen for a hefty $18 million over four years. Shea "This is a sinking ship" Hillenbrand was brought over for $6.5 million on a one year deal, a pretty good bargain if he doesn't wreck the chemistry. Meanwhile, Darin Erstad, Adam Kennedy, and JC Romero were all let go, but I don't think anyone noticed.
Lay it on me Straight: This team is decimated with injuries right now — rendering the team only partially recognizable. The injuries are so bad that I think they've created enough of an uphill battle that will prevent the Angels from making the playoffs. A few questions must be asked: can the youngsters like Casey Kotchman, Kendry Morales, Robb Quinlan, Mike Napoli, Dustin Moseley, and Joe Saunders finally contribute? Will Garrett Anderson find his old stroke? Can Matthews Jr. play enough defense to make up for Vlad and GA? How long will the pitchers be hurt? This team already has the appearance of a mid-August beat-up club.
So where my boys gonna finish right now: A few games above .500 because they have Vlad, Franky, Shields, Lackey, and Ervin Santana who won't allow them to do worse. Luckily the entire division except Seattle is worse, so they'll still have a fighting shot.
Can we be better than that: If all breaks right — meaning people become healthy and shake off their rust quickly (usually it takes a while to get back to form after returning from an injury), or the fill-ins absolutely dominate, then yes. Otherwise, you can already write off '07 as a lost cause unfortunately.