Crash Was Josh Hancock's Second Car Accident Last Week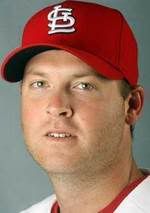 Thanks to fellow MLB FanHouser, Matt Watson, I have learned of a few more key details leading up to the unfortunate death of Cardinals reliever Josh Hancock. Turns out that the collision which ended Josh Hancock's life early Sunday morning was his second collision of the week.
Three days earlier, Hancock had a close call when his vehicle edged several inches into the intersection of Yellow Brick Road and Illinois Route 3. A Sauget police spokesman said Monday that a tractor-trailer struck Hancock's GMC Denali, tearing off the vehicle's front bumper. "Just another inch or so and he could have died two days earlier, because that tractor-trailer was traveling about 45 to 50 miles per hour," according to Sauget Police Chief Patrick Delaney.
…
Hancock walked away from that early Thursday morning crash uninjured, but he was late for the team's afternoon game a few hours later. The club and several teammates said he had overslept.
Speculation was that he was hungover therefore rendering him unable to pitch in the game. And the Thursday crash sounds about on-par to me with a driver who would rear-end a parked tow-truck. What's also of note, is that prior to Sunday's collision, witnesses say Hancock was consuming alcohol at Mike Shannon's restaurant (Shannon is a former Cardinals player and their current broadcaster):
The two witnesses said Hancock appeared impaired.

"He had a mixed drink in one hand and a cigarette in the other," Vince said. "And my wife's comment was, 'He can barely put a sentence together.'"
And I'm guessing that's an honest report. So I don't care what the autopsy reveals, the story (without implicating Hancock) still serves as a reminder to everyone not to drink and drive. You may think it's cool, you may carry a nonchalant attitude when you're drinking, but there's not a person who will care how badass you were for trying to suck it up and drive, when you crash.
As Matt and I discussed in a conversation, there are all sorts of other parallels you can tie into this story as speculation. First, you had Tony La Russa who was busted in Spring Training for a DUI, which would make you wonder whether or not drinking and driving was part of the clubhouse culture. Couple that with a stadium named after a brewing company — Busch Stadium — and you have to wonder what type of message was being relayed. I'm certainly getting into far off reaches, so I'll leave you with this bottom line: just don't drink and drive, and don't let anyone you know drink and drive. Save your life, and save the lives of others.