Elijah Dukes Dissed His Manager, Dawg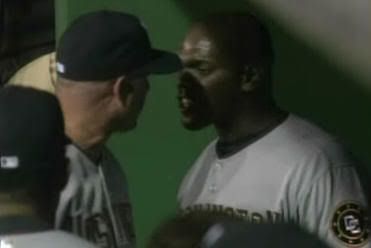 LBS and MLB FanHouse favorite, Elijah Dukes, had another magnificent moment on Tuesday night. After clubbing a 9th inning double against the Pirates, he was driven in by Lasting Milledge's go-ahead two-run HR which eventually won the game. The pair did a little handshake at the plate which has so often become the trend these days. In the dugout, something happened between Acta and Dukes, though I'm not quite sure what set it off. This guy says Dukes gave Acta a little slap in the back. I'm not sure what it was, but the war of words pictured above is what ensued. You can also check out the video, too.
The best part, aside from Dukes' total lack of respect for his manager, occurred after the game when the Nats were doing their postgame handshakes. As the players were going down the line exchanges fist pounds and high fives, Dukes saw Acta coming and put his hand down for the total snub, as pointed out by Baseball Tonight. As soon as he passed Acta down the line, his hand went back up to fiving everyone. Acta just laughed it off in one of those "What an effing punk" type ways. Classic. Gotta live Mr. Dukes. Doesn't matter how talented he is, those opportunities are going to run out if he keeps acting like this. Getting let go by the Rays is bad enough. The Nats are like a last resort. Watch yourself, Dukes.