Eric Gagme Ready to Close Again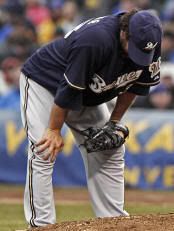 Well, that was quick. After saying he didn't deserve the closer role following Saturday's loss, the Brewers showed they agreed by yanking Eric Gagme as closer. Gagme said he didn't need a mental break like Jason Isringhausen from the Cardinals, but he got one anyway. I guess two days of watching his teammates get saves makes Gagme remember how easy it is and now he wants to get back in the saddle:
"I want to go out there as soon as I can … that's the way I am. That's what I know. I know how to close. That's the only thing I know how to do."
…
"I wanted to go out there yesterday in a save situation — that's how bad it is," Gagne said. "As much as you hate it, you can only hate what you love, I think. And that's exactly what I went (through) yesterday. I just went out there and I was sitting on the bench and I was getting anxious. I wanted to get the ball."
Well I'm sure Jeff Weaver would like to be back in the bigs, Aaron Boone would like to be starting, and Rich Harden would like to stay off the DL. But none of that is in the cards, you know what I mean? At some point Gagme you're just hurting the team and your wants become secondary to the team's needs, and you're well past that point. You've blown six saves and your team's lost half of those games. Your replacements have saved consecutive ballgames putting your team at .500. The objective is to win games. Your team is four games out of first. Do the math. Flush that $10 million down the toilet, Milwaukee, and just win games.