Erik Bedard Afraid of Big, Bad, Baltimore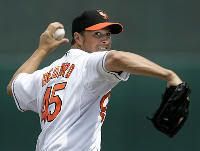 I remember last year when the same thing happened with Jason Schmidt. Schmitty was signed by the Dodgers' to be their ace, but he was slated as the team's No. 3 to begin the year in order to to avoid facing San Francisco in the opening week. This time around, it's a different pitcher, different team, but same situation. Come to find out that Erik Bedard has suddenly developed a "hip injury" that will sideline him for the remaining two games against the Orioles, but allow him to recover in time to start Tuesday against Tampa Bay. True story.
"Bedard's got a little inflammation in the hip," Seattle manager John McLaren said Saturday night after a 6-4 loss to Baltimore. "(Head athletic trainer) Rick (Griffin) feels confident that with medication and treatment, he'll be fine Tuesday."
I can't imagine McLaren actually told this to reporters with a straight face. Maybe there's something more to this than meets the eye; perhaps Bedard doesn't have the intestinal fortitude to be an ace in pressure situations. Is that why he was always coming out of games after seven innings last year instead of throwing all nine? As good as he is, he's beginning to strike me as a bit of a wuss. We'll see.