Hank Steinbrenner to File Grievance Over Brewers Use of Sabathia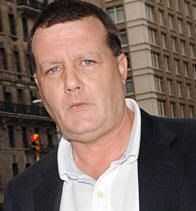 Last year's AL Cy Young winner, CC Sabathia, was acquired a month prior to the trading deadline by the Brewers from the Indians. Since the acquisition, Sabathia has been nothing short of brilliant, going 10-2 with Milwaukee winning 13 of the 16 games he started. Sabathia has been quite the workhorse since his acquisition, throwing three straight complete games in July, and three more in August, totaling an astounding (by today's standards) six complete games in 16 starts. And since falling out of the wild card lead, the Brewers have decided to pitch CC on three days rest as opposed to the standard four in each of his last two starts. They have also said they wouldn't hesitate to pitch Sabathia on Sunday (also on three days rest) if it were necessary.
While Milwaukee's worrying about making the playoffs for the first time since 1982, the Yankees have already been eliminated from postseason contention — for the first time in 14 years. Hank Steinbrenner already stated that he expects the Yankees to win the World Series next year, and that he plans on Sabathia being one of their big free agent signings in the off-season. That's why he's filing a grievance with MLB, saying that the Brewers are abusing Sabathia, mere months before CC's set to become a free agent:
"I cannot believe that they would let him throw as many innings as they have," Steinbrenner said, noting Sabathia's elevated innings and pitch counts with Milwaukee. "That's reckless and despicable," he continued. "They could be ruining a Cy Young arm all for one run at the postseason. It's irresponsible and illegitimate."

"He's going to be a premier pitcher on the free agent market and he'll be damaged goods." Reminded that his comments could be construed as tampering, Hank replied, "Everyone knows that we're the New York Yankees, and when we set our eyes on something we want, we always get it. We're moving into a new ballpark as you all well know and we'll need some top shelf arms to strengthen the rotation. You figure it out."
While this would certainly be the first case of its kind that I can remember, I'm not too surprised by it. I know Sabathia's a gamer, but I'm surprised his agent hasn't said anything yet. We're talking about a $140 million arm that's in jeopardy right now, and CC seems to be playing into it. Gotta love Steinbrenner, too, for being as ballsy as he is.
Note: The events in this story never really took place. It is simply a satirical piece and only took place in my imagination. I bet you I'm not too far off from what the Yankees are really thinking, though!