Hi, I'm Francisco Liriano, Remember Me?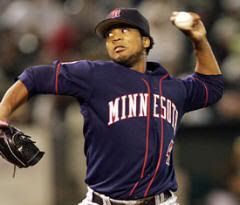 It was just about a year ago when Francisco Liriano was stuck in the Minnesota Twins bullpen, blowing hitters away while grabbing the occasional save (stress on the occasional). Then starting on May 19th, Liriano was hoisted from the depths of the pen to the gloriousness of the rotation. Francisco proceeded to go on an absurd run as a starter, posting an 11-2 record, striking out 93 batters in 79.2 innings of work. Liriano only allowed 15 runs during that span, good for a 1.70 ERA. In fact, Liriano was such a stud, he was giving Johan Santana a run for his money as the best pitcher in baseball. The two were on their way to forming the best pitching tandem in baseball since Randy Johnson/Curt Schilling, or Sandy Koufax/Don Drysdale for older fans.
Then at the beginning of August, most of the Twins future hopes came crashing down as a mystery injury befell the unfortunate Liriano. Nobody really knew what it was. It forced the young lefty to get season-ending Tommy John surgery on his elbow in the off-season. Well, with all that in mind, I'm pleased to announce that Liriano, yeah, that guy, remember him? Finally made an appearance in the Twins clubhouse, rejoining the team in Tampa Bay on Thursday.
Just wanted to pass that note along in case you had forgotten about him. Because I know I certainly had. And after watching him dominate unlike anyone else in the majors last year — Santana included — I desperately want to see him back and healthy again.