Ken Griffey Jr. Quite the Penny Pincher
Baseball pranks certainly provide tremendous entertainment and help lighten the mood especially when your team's struggling. One of my favorites was when Jarrod Washburn brought an ostrich into the Angels' clubhouse and scared the daylights out of Ramon Ortiz. That was tremendous. But what Ken Griffey Jr. did was also fantastic. Apparently he enjoys creating inconveniences for his teammates:
Pitcher Josh Fogg arrived at his locker Wednesday to find it stacked with 60 boxes of pennies, 2,500 pennies to a box. He immediately looked at Griffey and said, "That's good, Griff, real funny. Kick me when I'm down."

Griffey warned him but Fogg didn't believe it when Griffey said he was going to pay off a $1,500 debt in pennies.

"I'm a man of my word," said Griffey. "When you owe a man $1,500, you pay him. You can't do a whole lot with pennies, can you? Just think, each box weighs 16 pounds so Fogg has 60 bowling balls in his locker."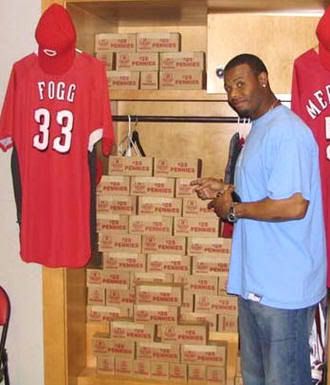 Gotta love Hal McCoy relaying the information that really matters. Like we care about Jeff Keppinger's knee injury — this is the good stuff. Maybe it's something about the Reds' clubhouse. Remember Adam Dunn pranking Jay Bruce? That was pretty solid. I'm not sure which one's better.