Manny Ramirez Switching to Scott Boras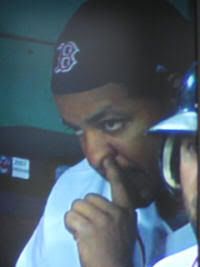 Funny, just a few months ago I was wondering whether or not superagent Scott Boras was losing power in the baseball world. He had little involvement in the A-Rod negotiations, we were told, and he was fired by Kenny Rogers, all within a few weeks. But now this revelation by Jon Heyman of SI that the Red Sox slugger is switching over to Boras means that all is still straight in the baseball universe.
Much ado has been made over Manny's contract situation recently. He has said this week that he wants to remain with the Red Sox for his career. On the other hand, Manny also said he would have no problem becoming a free agent after the year, rather than exercise his option for '09. So what to make of this news? Ordinarily you wouldn't figure a man intending to re-sign with his existing team would go out and hire the most notorious of all baseball agents. It's as simple as putting A and B together: hiring Boras = pursuing free agent contract.
One thing to keep in mind is that the Red Sox do have several Boras clients on their team, including JD Drew, Dice K, Jason Varitek, Jacoby Ellsbury, Julian Tavarez, and Alex Cora. Clearly Boras and the team have a good working relationship, so the possibility that Boras re-signs certainly exists. I just don't get why any player would switch to Boras if they didn't have the intention of making a huge score in the free agent market. We'll wait to see what happens.