President Bush Rips on Himself, Red Sox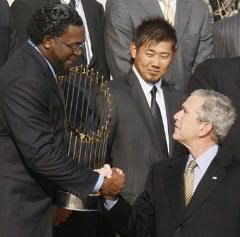 If approval ratings were based on how the President relates to athletic teams, the country would be demanding a third term for Dubya. The guy broke out all the stops when he met with the Red Sox Wednesday at the White House to congratulate Boston on their World Series win. Amongst some of his zingers, he mentioned he was happy Jonathan Papelbon was wearing pants, perhaps referring to Papelbon's Irish Jig. But his best lines were reserved for Manny who missed the '05 celebration, and then Dice-K:
"I guess his grandmother died again," Bush said to prolonged laughter. "Just kidding."
…
Bush noted the pitching of Japanese player Daisuke Matsuzaka, known as Dice-K. His presence drew a huge number of Japanese reporters.

"His press corps is bigger than mine," Bush said. "And we both have trouble answering questions in English."
At least the man acknowledges his shortcomings. I wonder who's writing his material. Problem is he'll probably be out of office by the time Clemens needs him to step in and deliver the pardon. Well done Bush, well done.