Rain Postpones Game 5, Forces Rays to Switch Hotels and Move to Delaware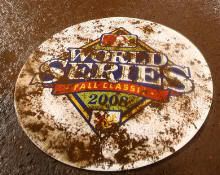 There are a lot of people whose shoes I would not like to be occupying at this time. The list pretty much starts and ends with the big wigs making the decisions behind the scheduling of the MLB playoffs, e.g. the executives at FOX and the executives of MLB. They already started one World Series game at 10pm Eastern Time over the weekend, all but eliminating the young fan base, and now they're being jammed up by the weather in Philadelphia. There might be some things I would have done differently, but there's no question that they have tough decisions to make and no clear solutions. Additionally, two people whose jobs are less than enviable at this moment are the travel directors for both the Phillies and the Rays.
As ESPN was going into its 3rd hour of "live from the dugout weather report" following Monday Night Football, several contributors mentioned that the Rays had to switch hotels and move to Wilmington, Delaware. The team had anticipated that Game 5 would be played Monday night and that the Rays would be returning to Tampa win or lose, so they had checked out of their Philadelphia-area hotel. Having the game postponed by rain meant the team would have to spend at least an extra night in the city. The hotel they had been staying at already sold out the rooms they had been occupying, so according to several ESPN commentators, the Rays had to move hotels to one in Wilmington. Unfortunately after phone calls to several Wilmington-area hotels, I was unable to confirm these reports. Either that, or the woman at the Marriott who said she couldn't tell me if an entire group was there but could tell me if individuals were checked in was trying to hint at something. Too bad I didn't have the Rays' hotel aliases handy.