Sign of the Recession: Pat Burrell Only Gets $16 Million as Free Agent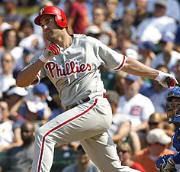 In the off-season baseball free agent pool I had going — the one where I bragged about correctly predicting the Yankees would sign Teixeira and Sabathia — I also had Pat Burrell signing a four-year $60 million deal with the Rangers. That was the low end for contracts we predicted for Burrell, too. The guy may leave a lot to be desired with his defense, strikeout totals, and inconsistent batting average, but it was fair to figure that a 30 home run hitter and near 100 RBI and walk guy would get upwards of three years and 40 million for his services. Why else would he reportedly turn down a measly two year $22 million offer from the Phillies? I, like many others, felt that was a low ball deal by the Phils and that Burrell would comfortably receive more on the market. Apparently not.
For all we know, there could have been other solid offers on the table for Pat, but there likely couldn't have been anything too significant money-wise otherwise he probably would have taken it. Think about it: Burrell just won the World Series — signing to win a ring probably wasn't a top priority. Maybe the allure of playing in Florida (he played ball at Miami in college) and for a contender caused him to overlook the few millions he may have been leaving on the table. Still, I can't believe that he signed for so little money. I guess I'll brace myself for the impending two-year $20 million contract Adam Dunn signs. Here I was thinking sluggers were a premium and Pat Burrell goes out and signs for just 16 mil. To show you a sign of the times, Andruw Jones got more than that after a .220 season. As for my prediction about Pat signing with the Rangers, it appears as if I wasn't too far off. And I'm glad the Rays got Burrell; now they'll have a decent power bat to help them compete in the AL East.