Terrible Jersey: Albert Belle, Indians
Life just hasn't been the same since Marco stopped adding to the Terrible Jersey Hall of Fame on his old blog, Just Call Me Juice. It was a great, creative idea for a recurring feature, and the epitome of what makes sports blogs so much fun. In fact, one of my blogging highlights was making it into the HOF with my Ki-Jana Carter Bengals jersey. Anyway, when I saw this beauty in the checkout line at Costco, I immediately perked up and bolted to shake this man's hand. I had to congratulate him for such a fantastic jersey, and he was quite pleased that his shreds were making me so excited. So here it is: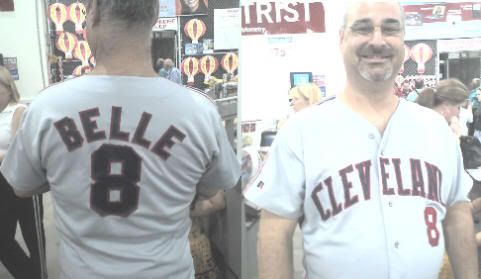 There are so many aspects of this situation that make this jersey great. For one, it's older than hell; it's been 12 years since Belle played for the Indians, and around 10 years since he was really relevant. The fact that the guy was wearing it in 2008 makes it that much better. But most importantly, it's Albert Belle. Albert freaking Belle. Who has an Albert Belle jersey? And who that at one point wore an Albert Belle jersey would still wear it given Belle's recent history? Man, add all this up, and you can see why I was so thrilled. Too bad he wasn't having any of my trade offers. I was figuring a case of Bud Light and a 12-pack of croissants would do the trick. No such luck.