Texas Pitcher Austin Wood Throws 12 1/3 No-Hit Innings Against Boston College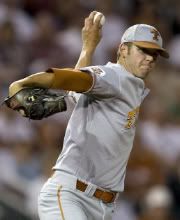 Texas beat Boston College 3-2 in the longest game in NCAA history, 25 innings. The game began on Saturday evening at 7:02pm EDT and didn't finish until around 2am EDT on Sunday morning. There were three seventh inning stretches for the more than 7,000 fans on hand at the Austin Regional. When it was all said and done, Travis Tucker singled in his 12th at-bat of the game to drive in Connor Rowe for the game-winning run. The most impressive story of the night (and morning) came from Texas reliever Austin Woods:
Wood, who threw 169 pitches, came on in relief with a runner on second in the seventh inning. He pitched the next 121/3 innings before he gave up his first hit, a single in the bottom of the 19th.

He struck out 14, walked four batters and gave up two hits in 13 innings. Making Wood's performance even more impressive was that the game was on the line in every inning. And all of this came after he pitched two innings Friday in a 3-1 victory over Army.
Talk about a freaking rubber arm, my goodness. Apparently this type of duty isn't too new for Wood who has pitched in 34 of Texas' 57 games, and thrown twice on the same day three different times. Still, 13 total innings in one appearance, not to mention going 12 1/3 without allowing a hit? That's pretty darn impressive, I don't care what level it is. I recommend you check out the boxscore for the game — it's not too often you see how a 25-inning game looks on paper.