Could Manny Wind Up a Yankee?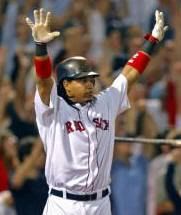 For some reason all the talk out of Boston over the weekend revolved around Manny. I guess it sort of started when he pushed the traveling secretary for the team and had the matter "handled internally" by the organization. Since then, he has missed games because of his knee and even pulled himself out of Friday's game against the Yankees although the MRIs on his knees came back clean. Needless to say, the Red Sox brass was not pleased. Things have gone so far now that many rumors swirled over the weekend that Manny would be traded, or at least the team would explore trading him. Manny said he would not object if they traded him, but that he knows the team needs him. And that's where I stand — the Red Sox need the guy — just look at how he did on Sunday night. He's a hitter and a valuable member of that team. And when it comes to the post-season, is there another hitter that steps up as much as he does, with the possible exception of Big Papi? I think not. That's why they won't be making any moves.
Now I do believe it is possible for the Red Sox not to pick up Manny's option after the year, particularly if they don't win the World Series again. They could use that as a chance to move on without him if he doesn't have a big October. But there's one reason the Red Sox should be quite wary of what they do with Ramirez — the Yankees. There are only a handful of teams in baseball that can pay the type of salary Manny commands. Is there any question that the Yanks — with all the payroll they have coming off the books — would not offer a deal to Manny? Would that not serve as the ultimate eff-you to Bean Town? Would that not be Johnny Damon ten-times over? I'm just saying that if Manny becomes available on the market, I cannot envision a scenario in which the Yankees don't sign him. That would give them a big post-season bat, and it would screw the Red Sox in the same move. Now how crazy would that be? And tell me Manny wouldn't want to stick it to Boston if they chose not to re-sign him. Oh I can see it happening now … Manny in pinstripes.