Mavericks will Win the NBA Title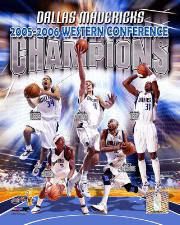 All day Tuesday ESPN was running a stat prior to the Mavericks/Nets game since Dallas was approaching one of the best records in NBA history through 60 games. Here was the graphic of best teams through 60 games:
'95-'96 Bulls 54-6 Won Championship

'96-'97 Bulls 53-7 Won Championship

'66-'67 Sixers 52-8 Won Championship

'82-'83 Sixers 51-9 Won Championship

'71-'72 Lakers 51-9 Won Championship
and now it includes
'06-'07 Mavericks 51-9 ?????????????
While the numbers speak for themselves, it's safe to say that the Mavericks don't come anywhere close to commanding the type of respect those other teams do.  Why is that I wonder?
Probably because after Dirk Nowitzki, the team's owner, Mark Cuban, is the only other recognizable figure of the franchise. 
HOWEVA, despite the fact that Dallas may have to go through the juggernaut Suns, Duncan and the Spurs, Yao's Rockets, or the Jazz, I will go on record now and say that the Mavericks will win the NBA title this year. How can I be so certain you ask (besides the fact that the graphic says so)?
The Mavericks play excellent defense, they have a passing point guard (who is also deadly from long-range), Dirk is a stellar scorer (and yes, a leader too), Dampier and Diop are nails inside, and Josh Howard, Jerry Stackhouse, and Devin Harris are underrated scorers.  Also, Avery Johnson has excellent control of the club, and let's not forget, they were up 2-0 on the Heat in the finals last year.
As another note, the Mavs have won 16 straight and have already clinched a playoff spot (on March 6th!).  I think the clinching certainly is worthy of the Avery Bunch video being relaunched, no?