Pacers Taking Tyler Hansbrough Fits in with New 'Team Concept'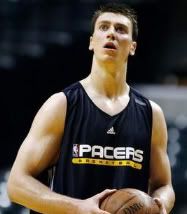 It's been five years since the brawl in The Palace of Auburn Hills between the Pacers and the Pistons. That fight resulted in several suspension of unprecedented length and changed the image of the Pacers according to then GM, Donnie Walsh. The team tried to remake itself, trading away Ron Artest for Peja Stojakovic, and then Stephen Jackson and Al Harrington for Mike Dunleavy Jr. and Troy Murphy. It doesn't take me doing the breakdown for you to do the quick math on those trades, and I'm not talking about their scoring averages. As if those moves weren't enough to let you know what was transpiring with the Pacers, this post from two years ago should do the trick. To refresh your memory, the Pacers marketed their coach, Jim O'Brien, over their players in that season. Here was the reasoning:
Pacers fans in this conservative market don't identify with the hip-hop culture some in the NBA have cultivated in recent years.

Pacers fans are more interested in things like hustle, teamwork and fundamentally sound basketball than individual stars, he said.
Hustle, teamwork, and fundamentally sound basketball. Hmm, you know which player in the draft embodies hustle, teamwork, and fundamentally sound basketball? The four-year senior and national champion from North Carolina, Tyler Hansbrough. Now there's someone the fans will be energized about watching! Gee, I can't believe they made this pick, wonder what swayed them? You know the irony? Fans don't mind the hip-hop culture as long as the team is winning — I sure don't remember seeing Market Square Arena empty too often. Regardless of whether or not Hansbrough deserved to go here, I think it's pretty convenient that Indiana is the team that pulled the trigger and that the local paper was cheerleading for him too.